Connect with Your Librarians
​
Join our Adult Department's Goodreads Group: connect with your librarians and other Goodreads Group members to discuss and share book recommendations.
Books Librarians Love
LibraryReads is a monthly Top 10 list of books chosen by librarians all over the country. You can see the current and past lists at LibraryReads.org
In addition, our librarian Bonnie stocks a Goodreads shelf with those titles for your convenience.
Adult Guides
Our downloadable guides range from new release lists to "how to" instructions designed to help you with our collection.
The Adult Readers' Blog
Written by
Bonnie
on
Sat, 02/28/2015 - 6:53am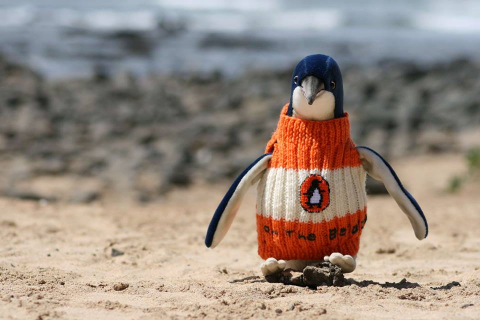 Yesterday five deer were outside my kitchen window. Elegant lawn ornaments in the falling snow. My heart thrilled to see them at the same time it ached for their struggle to survive. They are part of a regular group of visitors to my suburban backyard. A few weeks ago it was two red foxes passing through. The wildlife at my backdoor is changing. I'm not ready for lions, tigers, or bears but as the current cold snap continues it looks like we have a March of the penguins. They are adorable and at least the one in this photo is already dressed for Ohio weather.
Related:
Written by
Bonnie
on
Mon, 02/16/2015 - 7:32am
Written by
Bonnie
on
Wed, 02/11/2015 - 1:14pm
Adult Recommendations
"The Dinner" by Herman Koch
It begins with dinner at a high-end restaurant in Amsterdam. Two brothers, Paul and Serge, and their wives meet to discuss their teenage sons. It is quickly apparent this is no ordinary discussion. What have the cousins done? What is to be done about it? Slowly the tension builds and the reader becomes anxious as the story unfolds. The ending is a stunner!
"The Perks of Being a Wall Flower" by Stephen Chbodky
After his friend Michael commits suicide, Charlie must begin his first year of high school alone. He begins to write letters to an anonymous friend. It is through these letters we learn about Charlie, his family, friends, mentor and life. This is a well-written, articulate, funny, and poignant coming-of-age book.
"The Hypnotist's Love Story" by Liane Moriarty
The hypnotist has finally started dating someone that seems like he could be "the one." He tells her on a date that he has a stalker and she finds herself fascinated rather than disturbed. This story is told from the point of view of two characters, one of whom is the stalker. The author has such a way with character development that it's easy to sympathize with the stalker and you find yourself liking her. Moriarty seems to be able to capture the most complicated of human emotions and motivations in a simple and accessible way. There are no black and white issues in her books and the truthfulness of that really shines through. This was a very enjoyable read.
Pages