Connect with Your Librarians
​
Join our Adult Department's Goodreads Group: connect with your librarians and other Goodreads Group members to discuss and share book recommendations.
Books Librarians Love
LibraryReads is a monthly Top 10 list of books chosen by librarians all over the country. You can see the current and past lists at LibraryReads.org
In addition, our librarian Bonnie stocks a Goodreads shelf with those titles for your convenience.
Adult Guides
Our downloadable guides range from new release lists to "how to" instructions designed to help you with our collection.
The Adult Readers' Blog
Written by
Bonnie
on
Sat, 02/28/2015 - 6:53am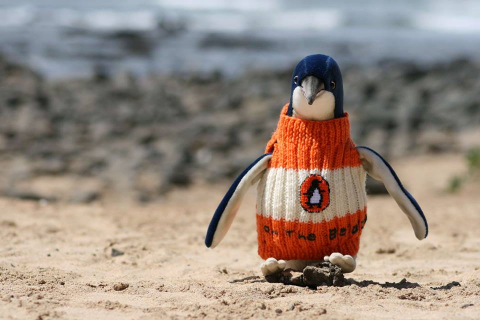 Yesterday five deer were outside my kitchen window. Elegant lawn ornaments in the falling snow. My heart thrills to see them at the same time it aches for their struggle to survive. They are part of a regular group of visitors to my suburban backyard. A few weeks ago it was two red foxes passing through. The wildlife at my backdoor is changing. I'm not ready for lions, tigers, or bears but as the current cold snap continues it looks like we have a March of the penguins. They are adorable and at least the one in this photo is already dressed for Ohio weather.
Related:
Written by
Bonnie
on
Mon, 02/16/2015 - 7:32am
Written by
Bonnie
on
Wed, 02/11/2015 - 1:14pm
Adult Recommendations
Holiday Food
I don't know if it was Thanksgiving or the swiftly approaching holiday season, but I can't stop thinking about (and reading about!) food. Whether I'm eating it, talking about it, reading about it, or making it, food is awesome! If you're anything like me, be sure to pick up one of the following titles to satisfy your appetite for a delicious read:
Part memoir, part graphic novel, this book will suck you in with its awesome illustrations, delicious recipes and musings on the author's life, favorite foods, and family. I dare you to read it and not go eat all the things!
This witty, well written memoir traces the author's complicated relationship with food from early adolescence to his present gig as a NY Times food critic. It's refreshing to know that even well revered critics have their limits and weaknesses.
Reichl was the editor-in-chief of Gourmet magazine, and this, her first memoir, tells the story of her coming-of-age through recipes. Beautifully written and well worth a read for her excellent food descriptions and recipes.
Best known for her food blog, Orangette, this is Wizenberg's recollection of the food and people that influenced her life. Each chapter includes a recipe, and her writing is so fantastic that you'll be torn whether to keep reading or stop just long enough to cook something before diving back in.
Put down that box of Hamburger Helper and pick up this highly entertaining book about how Flinn, a culinary school graduate, taught 9 women from all walks of life to prepare basic meals for themselves and their families using fresh, simple ingredients.
Relationships are like recipes – some are worth the work and some totally fail. Melucci does a great job of navigating the sometimes rocky terrain of her romantic life by relating the men she dates to the things she loves to cook. Oh, and there's lots of pasta!
The Raven's Eye: A Brock and Kolla Mystery by Barry Maitland
For DCI David Brock and DI Kathy Kolla, of Scotland Yard, a tragic accidental death becomes a possible murderous death among the houseboats that line the canals around greater London. Maitland's interwoven themes and well constructed plot subtly pull one into the story. Good read.
The Wicked Girls by Alex Marwood
If Tara French and Gillian Flynn went on vacation in England together to an amusement park (think English Jersey Shore) this would surely be the outcome. Two women who haven't seen each other since they committed a heinous crime together as children cross paths as adults when one, now a reporter, visits the other, an amusement park employee, to investigate the brutal murders that take place in the vacation town. If you're anything like me, you'll most likely peg the killer within the first third of the book, but be warned that things are definitely not what they seem. A perfect beach read for those in denial about the recent wintry weather or an equally creepy Halloween appropriate thriller.
Pages