Connect with Your Librarians
​
Join our Adult Department's Goodreads Group: connect with your librarians and other Goodreads Group members to discuss and share book recommendations.
Books Librarians Love
LibraryReads is a monthly Top 10 list of books chosen by librarians all over the country. You can see the current and past lists at LibraryReads.org
In addition, our librarian Bonnie stocks a Goodreads shelf with those titles for your convenience.
Adult Guides
Our downloadable guides range from new release lists to "how to" instructions designed to help you with our collection.
The Adult Readers' Blog
Written by
Bonnie
on
Sat, 02/28/2015 - 6:53am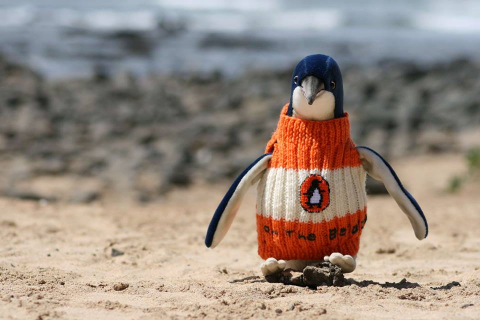 Yesterday five deer were outside my kitchen window. Elegant lawn ornaments in the falling snow. My heart thrills to see them at the same time it aches for their struggle to survive. They are part of a regular group of visitors to my suburban backyard. A few weeks ago it was two red foxes passing through. The wildlife at my backdoor is changing. I'm not ready for lions, tigers, or bears but as the current cold snap continues it looks like we have a March of the penguins. They are adorable and at least the one in this photo is already dressed for Ohio weather.
Related:
Written by
Bonnie
on
Mon, 02/16/2015 - 7:32am
Written by
Bonnie
on
Wed, 02/11/2015 - 1:14pm
Adult Recommendations
"A Light that Never Goes Out: the Enduring Saga of The Smiths" by Tony Fletcher
This is a detailed story of the band The Smiths by a clearly ardent fan that would certainly be of interest to other fans of the band (like myself), but also to anyone following the history of indie music. They are such an English band, and the author details many locations and subtexts that may not be readily apparent to those who are not native Mancunians or familiar with British pop culture and local history. He talks about all of the band's influences and shows the reader where they fit into musical history. This is a really thick book of 704 pages covering the span of the band's life, so there's a lot of detail here, considering they were only together for 6 years.
"Me before You: a novel" by Jojo Moyes
Me before You is the story of Louisa Clark, and Will Traynor. "Lou" is a small town British girl, living with her zany family, and a waitress in a small Tea Shoppe. She answers an ad in the paper for a companion to a young man, and is hired for her likability and cheerfulness. Will, who was once a very active man, had an accident and is now a quadriplegic. His depression and sorrow are understood, but his mother would like him to live life in a different way. What follows is a combining of heart and soul, as these two unlikely people share their lives careening toward an unbelievable ending.
"The Last Runaway" by Tracy Chevalier
In the early 1850's Quaker sisters, Honor and Grace Bright, set sail for America. They begin a journey to Ohio where Grace will marry Adam Cox, a Quaker, who has settled near Oberlin, Ohio. In Pennsylvania Grace contacts Yellow Fever and dies. With the help of strangers, Honor continues to Ohio. Her arrival, instead of her sister Grace, is an unwelcome surprise to the small Cox household. While Honor struggles to adapt to the Quaker Community in America, she, unwittingly, becomes involved with the Underground Railroad. Once again, Tracy Chevalier has written an informative and compelling historical novel.
Pages